Over the weekend, a walk around downtown Seattle turned into an emergency when I suddenly noticed Phoenix's foot was bleeding.  I tried to take him to a 24 hour animal hospital but they told me it was at least a two hour wait.  As I sat in the waiting room, his foot stopped bleeding so I took him home.
During the day, Phoenix's foot continued to reopen several times without warning.  At times, it was dripping large blood droplets all over my clothes so it seemed like I was an extra from a horror film.
Luckily, we were able to act quickly.  We went into the nearest grocery store and bought some saline solution, some rolled gauze, and a bandage wrap and clips to hold it in place.
I squirted the saline solution over his paw and blotted dry, and then repeated.  I was attempting to clean the area and find the source of bleeding.  
As I inspected his foot, I never found any foreign object lodged in his foot.  In fact, it seemed as if he had a minor cut that was probably in a high pressure area that kept reopening despite a small scab forming.  
I bandaged up his foot by using the gauze and bandage wrap.  It was far from a perfect bandage but it seemed to work fine for walking around the house.  Phoenix acted normal, and the cut seemed pain free.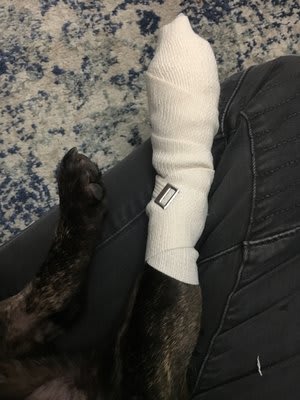 Unfortunately, the next morning, Phoenix reopened the wound by trying to play with Cooper.  Now rebandaged and wrapped, Phoenix is on a longer regimen of rest.
After our weekend, I questioned should I be carrying a dog first aid kit?  
Dogs can always be prone to having a minor accident.  Just like Phoenix, minor cuts and abrasions can happen without warning but do not always necessitate an emergency room visit.  So what is needed in a dog first aid kit?
At the bare minimum, you should carry the following in your own self-made first aid pet kit:
Additional items that can be added to a first aid pet kit are as follows:
Dog socks with traction (this can be used over an ace bandage on the foot to prevent sliding on slick floors)
Tweezers (to remove stickers or stingers from skin)
Extra poop bags, leash, and/or collar
Tongue depressor (can be used as a splint, if needed)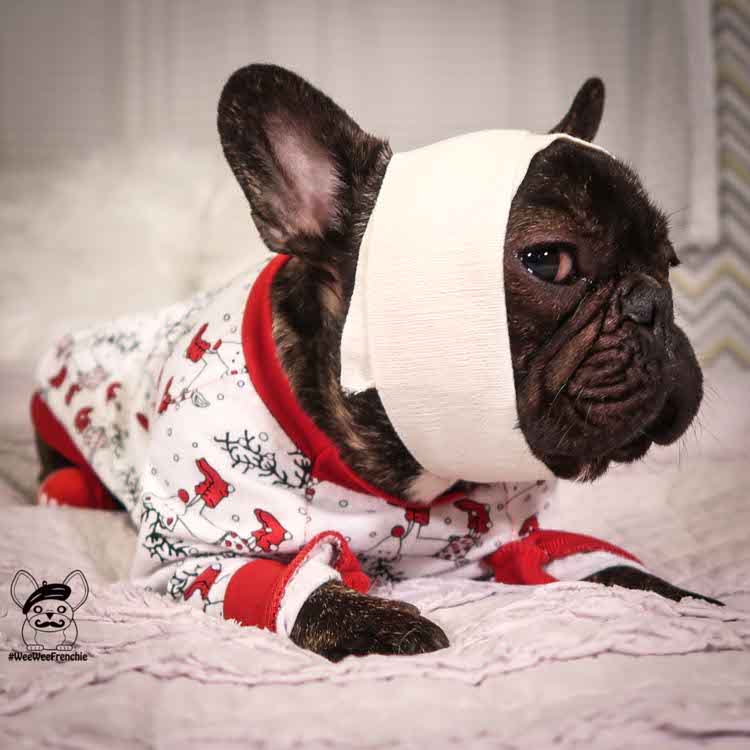 A pet first aid kit is easy to make.  Most items can be found in the travel section and first aid section of the grocery store.  Use small, clear baggies to group items together.  Either buy a first aid bag or use a small make-up bag to store your items in a backpack, purse and/or home.  
Although it seems that one of the best places to store a first-aid kit is in the car, the extreme heat/cold can render unused items to expire faster.  It is a better idea to carry first-aid pet essentials in a small bag tucked into a purse or backpack to prevent subjecting to extreme storage conditions.
Lastly, make sure to review expiration dates of items in the first aid kit every few months.  Replace items that are expired or may expire soon.  You never know when an emergency will occur so make sure you are ready for the unexpected!