When searching for a vet, there are many things to think about.  You want someone who is compassionate, knowledgeable, and who will treat your dog as if it was their own.  So what qualities do you need to look for in a vet?  Do you need a breed-specific veterinarian in order to give your dog the best care?

I have seen several posts on social media that recommend new French bulldog owners need to get a Frenchie-specific veterinarian.  It sounds like the right thing to do because you want the best for your dog.  However, what are the qualifications for a veterinarian to become breed-specific?
I submitted several searches on Google, such as:  "how to become a breed-specific veterinarian," "steps to becoming a French bulldog vet," as well as "how to become a certified French bulldog vet."  Each search came up with zero results.  Did you hear that correctly?  There are no qualifications or certifications needed to become a French bulldog or breed-specific veterinarian!  That means that anyone can call themselves a French bulldog veterinarian.
Based on our own experience of trying to find the cause of our own French bulldog, Phoenix's health issues, we have seen five veterinarians in Seattle, and two of the vets claimed to be "French bulldog-specific vets."  Both the French bulldog-specific vets were the worst in giving care to my dog.  One of the specialists misdiagnosed my dog, which caused us to go to the emergency hospital within 24 hours of our visit (my dog barely surviving the night).  The other bulldog-specific veterinarian was not prepared, lacked professionalism, and told us that we had "made-up scenarios" when we were stating facts from my dog's radiology report.  

In comparison, when seeing veterinarians that were not French bulldog-specific, we felt that the veterinarian listened to our story, treated with us with compassion, and gave a good treatment plan.  

Do French bulldog-specific vets exists?
In talking to a few veterinarians in Seattle, I have asked, "How do you become a breed-specific vet?"  Each time they have said, "You do not become breed specific.  If stating that you are a breed-specific vet, then your clientele is largely French bulldogs or it is based on the number of specific procedures performed on French bulldogs."  Bottom line, the vet should have a large majority of bulldogs that represent their clientele.
With this in mind, there are a few vets in the United States that practice as bulldog-specific veterinarians, and their clientele includes only French and English bulldogs!  Their background includes performing specialized surgeries and alternative medicine (like stem cell therapy), as well as volunteering for bulldog rescues, and hosting adoption events for bulldogs.  Bottom line, if you are searching for a breed-specific vet, you want to find someone that eats, breathes and is totally engrossed with everything bulldog!  Just owning a bulldog does not make you breed-specific.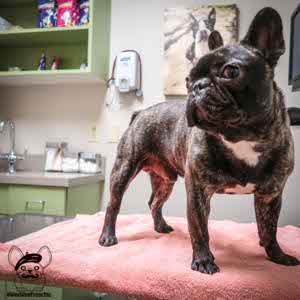 So the next time someone tells you that your veterinarian needs to be a breed-specific vet, make sure to do your research.  Does the vet work only with one breed or are they still a general practice veterinarian?  Do they perform any research to help resolve specific ailments within the breed?  Do they volunteer or host adoption events for a particular breed?  Make sure to ask questions because calling yourself a specialist is different than actually being a specialist.